Table of Contents
Getting Signed In
First steps to playing are getting registered and signed in. Once you are signed in, you may explore options on the main menu such as changing name color or changing window colors or when you are ready, simply click "Start Shift".
Starting Products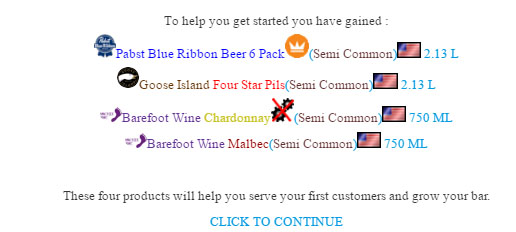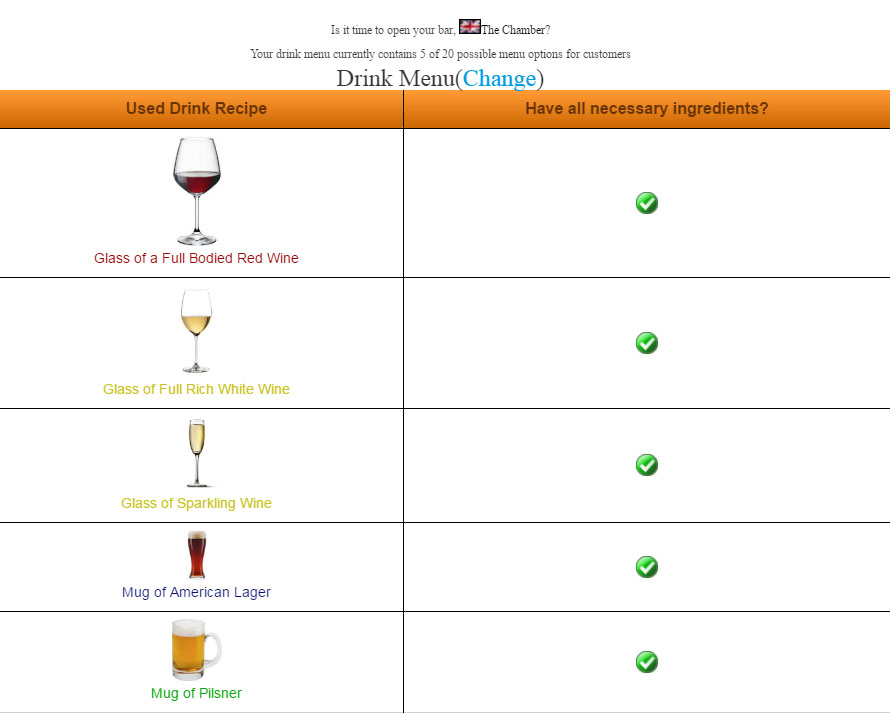 When you first sign in, you will receive some beer and wine. Recipes are NOT collected like products and can be made as long as you have products that can supply the needed ingredients. The game automatically sets up a simple menu for you based on the starting products.
Serving your Customers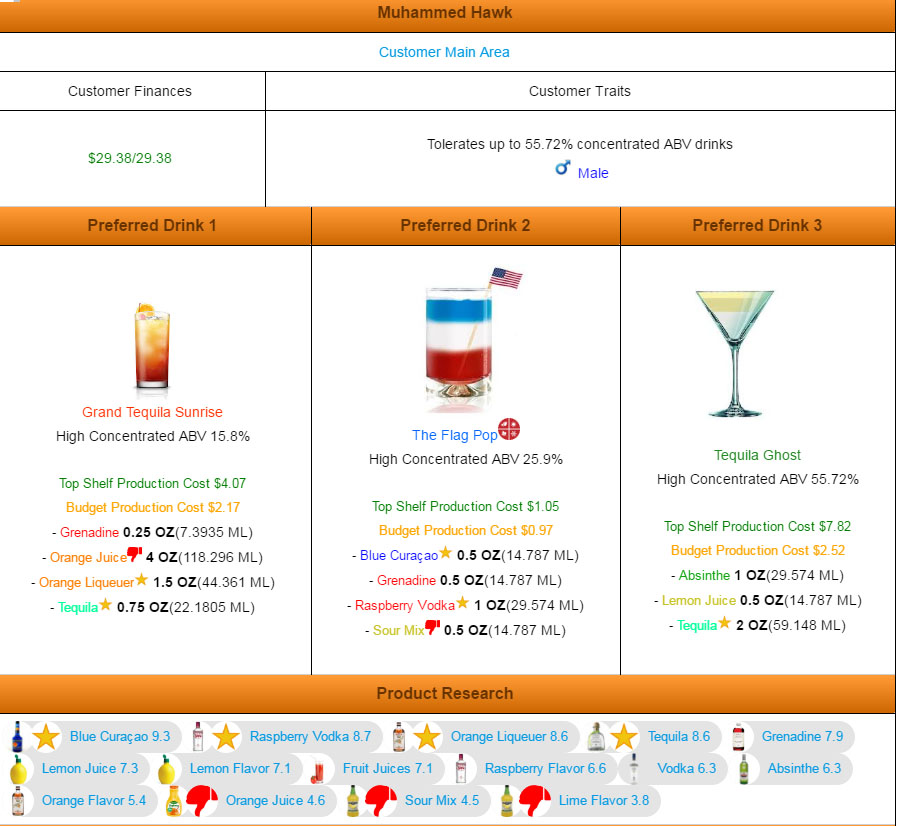 Serving customers is as simple as clicking on the drink you want to serve and clicking "SELL" when the option is given. Some customers won't pay for drinks they very much dislike or due to financial reasons. In general, you want to serve what customers like so it is suggested you don't waste product on customers who hate your starting products(beer/wine). Skipping a customer still results in 5 production points which might be better than serving a drink and receiving an "F" grade.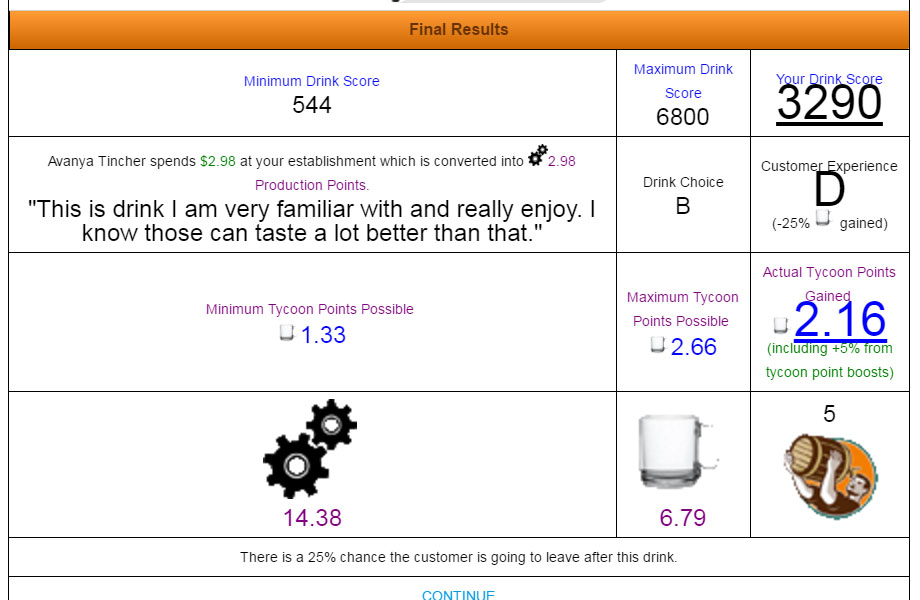 Continue through all 10 customers and start a second shift - doing the same. Your goal is to earn at least 50 production points(or more). Every 50 production points allows you to open a Production scratch card. If you are very lucky, you can also earn 50 tycoon points along the way which will enable you to open a Manager scratch card. Since you are really just starving for basic products, I'd suggest either over waiting for the more expensive Tycoon scratch card.
Buying Scratch Cards
Scratch cards can be purchased from the main page and you must match products to gain them. Between two shifts, it is very possible to gain enough for 2 scratch card games.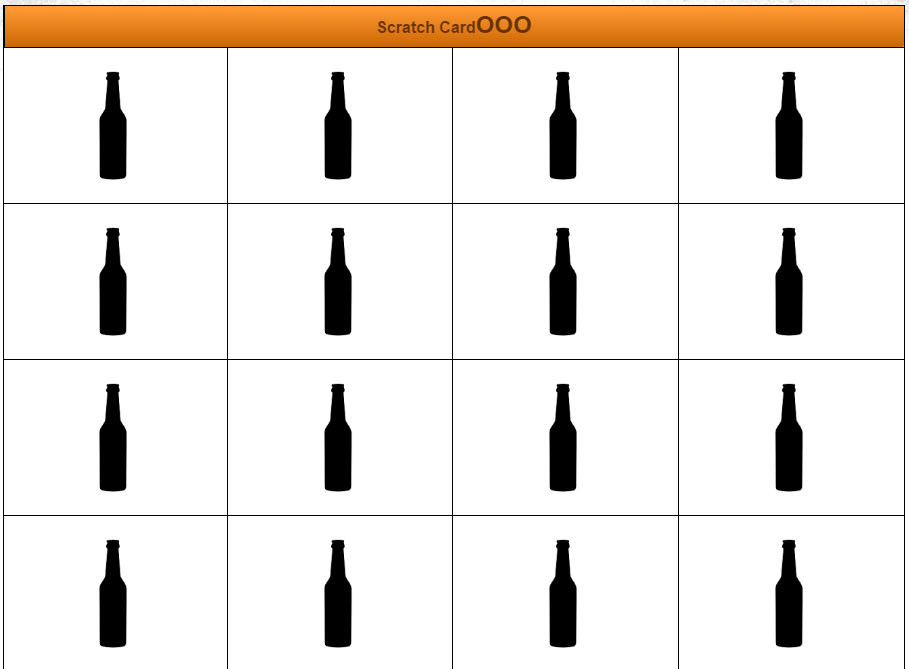 The Future
The game is meant to be played in intervals to give everyone a chance to win. Every 6 hours, every player is given 2 shifts. It is suggested you play the game and use your shift at least twice a day to avoid your shifts flooding over.
You will want to focus on critics and competing in events to go further. There are tons of challenges and events to achieve in your time at Bar Tycoon.