Table of Contents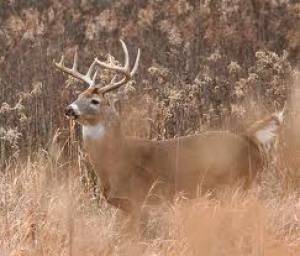 Trophy Hunting Online
http://www.trophyhuntingonline.com
Free-to-play
Series Established 2013
Overview
Utilizing the base technology from the popular Trophy Fishing Online 2, Trophy Hunting takes the Trophy System another step featuring a completely revamped hunting system with tons of sounds and new media. Hunt around the United States with animals boasting both adult and juvenile pictures.
Features
Nearly 100 animal species.

Over 100 equipment pieces ranging from crossbows to pistols.

Nearly 25 hunting locations.
Topics
Official Guides
Player Guides
Appendixes
Animals
Abert Squirrel
American Alligator
American Bullfrog
American Coot
American Wigeon
Antelope
Badger
Beaver
Bighorn Sheep
Bison
Black Bear
Black Duck
Black Squirrel
Black-tailed Jackrabbit
Blackbird
Blue Goose
Blue-winged Teal Duck
Bobcat
Bobwhite Quail
Brant
Canada Geese
Canvasback Duck
Caribou
Chukar Patridge
Cinnamon Teal Duck
Clapper Rail
Common Moorhen
Common Snipe
Cottontail Rabbit
Coyote
Crow
Dusky Grouse
Eastern Chipmunk
English Sparrow
Fox Squirrel
Gadwall Duck
Gallinule
Goldeneye Duck
Gray Fox
Gray Partridge
Gray Squirrel
Gray Wolf
Green-winged Teal Duck
Ground Squirrel
Groundhog
Hooded Merganser
King Rail
Mallard
Marsh Hen
Marsh Rabbit
Merriams Wild Turkey
Mink
Moose
Mottled Duck
Mountain Goat
Mountain Grouse
Mountain Lion
Mourning Dove
Mule Deer
Nutria
Oppossum
Osceola Wild Turkey
Pigeon
Pine Squirrel
Pintail Duck
Porcupine
Prairie Chicken
Prairie Rattlesnake
Raccoon
Red Fox
Red Head Duck
Red Squirrel
Red-breasted Merganser
Ring-necked Duck
Ring-necked Pheasant
Ruddy Duck
Ruffed Grouse
Sage Grouse
Sandhill Crane
Scaled Quail
Scaup Duck
Sharp-tailed Grouse
Skunk
Snow Geese
Snowshoe Hare
Southern Flying Squirrel
Starling
Swamp Rabbit
Trumpeter Swan
Weasel
White-tailed Deer
White-tailed Jackrabbit
White-Winged Dove
Wild Hog
Wild Turkey
Wood Duck
Woodcock
Weapons & Equipment
Bear Archery Anarchy Compound Bow
Bear Archery Brave III Compound Bow
Bear Archery Empire Bow
Bear Archery Encounter Bow
Bear Archery First Shot Youth Bow
Bear Archery Grizzly Recurve Bow
Bear Archery Home Wrecker Bow
Bear Archery Junior Crossbow
Bear Archery Kodiak Recurve Bow
Bear Archery Montana Longbow
Bear Archery Motive 6 Bow
Bear Archery Outbreak RTH Compound Bow
Bear Archery Rogue Compound Bow
Bear Archery Siren Bow
Bear Archery Supermag 48 Recurve Bow
Bear Archery Youth Compound Bow
Beretta U22 Neos .22LR Pistol
Browning BL-22 Grade II .22 LR Rifle
Browning BL-22 Rimfire Rifle
Browning BLR Lightweight Takedown .300 WSM Rifle
Browning Buck Mark Standard URX .22LR Pistol
Browning Cynergy Classic Field 12 Gauge
Browning Gold Series .22 Caliber Break-Action Air Rifle
Browning Maxus Stalker 12 Gauge
Browning Rimfire Rifle
Browning T-Bolt Rimfire Rifle
Burris Eliminator LaserScope
Burris Fullfield TAC30 Tactical Rifle Scope
Cabelas Powderhorn Muzzleloader Scope
Cir-Cut Whisker String Silencer
EOTech 553.A65BLK Tactical HOLOgraphic Weapon Sight
EOTech Silver Grade Holographic Weapon Sight
G5 Primal Compound Bow
H&R Pardner 20 Gauge Shotgun
Heritage Manufacturing Rough Rider .22 Mag Revolver
Hiviz Handgun Sight
Hiviz Spark II Shotgun Front Sight
Horton Havoc Crossbow
Kimber .45ACP Pro Carry II Pistol
Kimber 45 ACP Custom II Pistol
Kimber 45 ACP Super Carry Pro Pistol
Kimber 45 ACP Ultra CDP Pistol
Kimber Stainless Ultra Carry II Pistol
Limited Edition Summer Pistol Grip
Marlin Model 1895 Lever-Action Rifle
Marlin 60 .22LR Rifle
Marlin Model 1894 Lever-Action Rifle
Marlin Model 336 Lever-Action Rifle
Mossberg 702 Plinkster Semiautomatic Rifle
Mossberg MVP Varmint Rifle
Mossberg Silver Reserve 20 Gauge
Parker Bows Thunderhawk Crossbow
Pendersoli 1859 Sharps Cavalry Carbine
Pendersoli Blue Ridge Musket
Pendersoli Brown Bess Musket
Pendersoli Kentucky Flintlock Rifle
Pendersoli Philadelphia Derringer
Pendersoli Rocky Mountain Hawken Rifle
Pendersoli Tubular Powder Flask
Pietta 1858 New Army .44 Caliber Revolver
PSE Archery Bow Madness
PSE Archery Chaos One RTS Compound Bow
PSE Archery Chief Longbow
PSE Archery Coyote Recurve Bow
PSE Archery Mustang
PSE Archery Prophecy RTS Compound Bow
PSE Archery Razorback Bow for Youth
PSE Archery Reaper Crossbow
PSE Archery Sequoia Longbow
PSE Archery Sinister RTS
PSE Archery Stinger 3G
Pursuit Red Dot Sight
Pursuit Rimfire Scope
Remington 870 Express Super Magnum 12 Gauge
Remington Model 597 .22LR Rifle
Remington Model 700 SPS .270 WIN Rifle
Ruger 10/22 Carbine Autoloading Rimfire Rifle
Savage 512 Gold Wing .410 Gauge
Savage 512 Gold Wing 28 Gauge
Savage 93R17 FXP .17 HMR Rifle
Smith & Wesson 1911 Pistol
Smith & Wesson 629 Outfitter Series Centerfire Revolver
Smith & Wesson Engraved Model 29 Revolver
Smith & Wesson Engraved Model 640 Revolver
Smith & Wesson Governor Revolver
Smith & Wesson M&P 40 Semiautomatic CO2 Pistol
Smith & Wesson M&P Two-Tone Handgun
Smith & Wesson Model 642LS Lady Smith® Revolver
Smith & Wesson X-Frame Centerfire Revolver
Springfield Armory XD(M) Compact Pistol
Springfield Armory XD-S Centerfire Pistol
TenPoint Carbon Fusion CLS ACUdraw Crossbow
TenPoint Carbon Fusion Pro CLS Crossbow Package
TenPoint Stealth SS ACUdraw Crossbow
TenPoint Tactical XLT ACUdraw Crossbow
Thompson 1911PKZMA Handgun
Thompson 1911TC Handgun
Thompson AOM130
Thompson T1-C
Thompson T5
Traditions Crockett .32-Caliber Percussion Rifle
Traditions PA Pellet Flintlock .50-Caliber Muzzleloader
Trijicon ACOG Ballistic Reticle Scope
Locations
Big Eau Pleine, Wisconsin
Big Water Lake, Georgia
Buffalo River, Minnesota
Chassahowitzka, Florida
Chequamegon National Forest, Wisconsin
Elk Mountain, Wyoming
Everglades, Florida
Flathead Lake, Montana
Francis Marion National Forest, South Carolina
Grey Rocks, Wyoming
Hamilton Branch State Park, South Carolina
Horseshoe Lake, Minnesota
Huron National Forest, Michigan
Lake Geneva, Wisconsin
Laurel, Mississippi
Medicine Rocks, Montana
Mt. Patterson, Colorado
North Platte, Nebraska
North Torrington, Wyoming
Pawnee Grasslands, Colorado
Roland Cooper Park, Alabama
Spirit Lake, Iowa
Waubonsie State Park, Iowa