Table of Contents
Seasons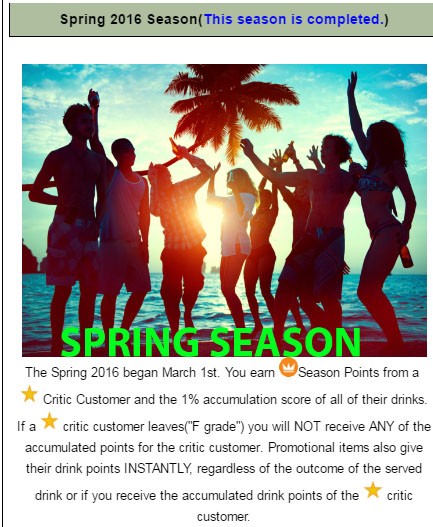 Each year is divided up into 4 automated Seasons including Spring, Summer, Fall and Winter with a small break after each season. Season points work a large part with Promoted Items and Critics to determine where you finish.
Seasons pay a hefty amount of Tycoon Points and offer some expensive Champagnes for top finishers!
Seasons are also very important as they re-shuffle all "in production" products. These products are generally far easier to obtain and many of the quests/promotion items are based upon what is available. It is very useful to stock up on products before a season ends as it might be a long time before you see specific products available again!
Seasons are the only way to earn Bonus Points that may be used in the Bar Tycoon Premium Store.
Drink of The Day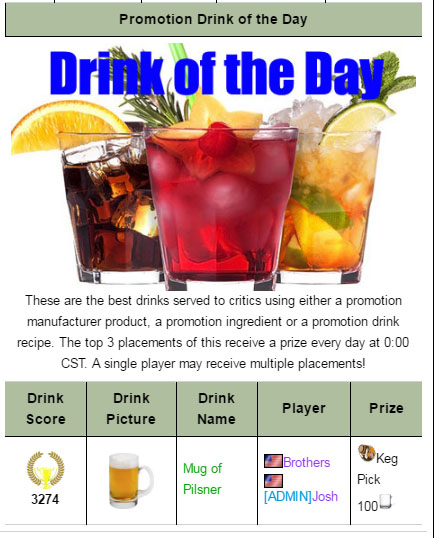 This daily tournament focuses on who made the best single drink of the day from a Promoted Items. The top 3 drinks receive some nice tycoon points and the first place finisher receives a prestigious keg pick. You can always view PAST Drink of the Day Winners in the Community→Drink of the Day Records link.
Weekly Tournaments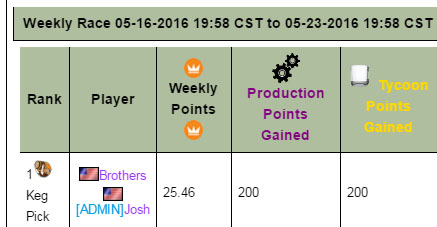 The daily tournament times in with new product/recipe releases and gives a balanced amount of tycoon points and production points to the top 100 finishers. First place here receives a prestigious keg pick.
Dud of the Day
A simple "joke" reward given to the lowest recipe score gained each 24 hour period to a critic. Gives a keg pick. Results are hidden until prize is given for this special honor. A forum post will be made when the payout is given with the recipe score attached.