Table of Contents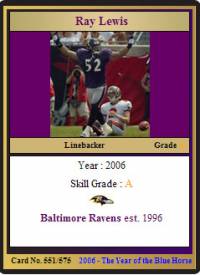 Scrimmage Football
http://www.scrimmagefootball.com
Free-to-play
Series Established 2012
Overview
A football game which blends sports-simulation and "card collecting". You create a deck by organizing players and playbook cards and letting your team make plays randomly from these cards.
Features
* Seasonal system featuring a Super Bowl.
* Over 600 player cards across 2012 and 2006 editions.
* Trade system allows you to buy and sell cards easily between other players.
* Daily achievements.
Topics
Official Guides
Player Guides
Appendixes
Cards
2012 Edition
New Orleans Saints est. 1967 Drew Brees [QB] [A]
New England Patriots est. 1971 Tom Brady [QB] [A]
Green Bay Packers est. 1919 Aaron Rodgers [QB] [A]
Atlanta Falcons est. 1966 Matt Ryan [QB] [A]
Chicago Bears est. 1920 Jay Cutler [QB] [B]
Washington Redskins est. 1937 Robert Griffin III [QB] [B]
Denver Broncos est. 1970 Peyton Manning [QB] [B]
Dallas Cowboys est. 1960 Tony Romo [QB] [B]
Detroit Lions est. 1934 Matthew Stafford [QB] [C]
Carolina Panthers est. 1995 Cam Newton [QB] [C]
New York Giants est. 1925 Eli Manning [QB] [C]
Indianapolis Colts est. 1984 Andrew Luck [QB] [C]
San Diego Chargers est. 1970 Philip Rivers [QB] [C]
Philadelphia Eagles est. 1933 Michael Vick [QB] [C]
Pittsburgh Steelers est. 1940 Ben Roethlisberger [QB] [D]
Baltimore Ravens est. 1996 Joe Flacco [QB] [D]
Houston Texans est. 2002 Matt Schaub [QB] [D]
Oakland Raiders est. 1995 Carson Palmer [QB] [D]
San Francisco 49ers est. 1946 Alex Smith [QB] [D]
New York Jets est. 1970 Mark Sanchez [QB] [D]
Tampa Bay Buccaneers est. 1976 Josh Freeman [QB] [D]
Tennessee Titans est. 1999 Jake Locker [QB] [D]
Buffalo Bills est. 1970 Ryan Fitzpatrick [QB] [F]
St. Louis Rams est. 1995 Sam Bradford [QB] [F]
Cincinnati Bengals est. 1970 Andy Dalton [QB] [F]
Seattle Seahawks est. 1976 Russell Wilson [QB] [F]
Jacksonville Jaguars est. 1995 Blaine Gabbert [QB] [F]
Kansas City Chiefs est. 1970 Matt Cassel [QB] [F]
Minnesota Vikings est. 1961 Christian Ponder [QB] [F]
Miami Dolphins est. 1970 Ryan Tannehill [QB] [F]
Cleveland Browns est. 1946 Brandon Weeden [QB] [F]
New York Jets est. 1970 Tim Tebow [QB] [F]
Detroit Lions est. 1934 Calvin Johnson [WR] [A]
Arizona Cardinals est. 1994 Larry Fitzgerald [WR] [A]
Atlanta Falcons est. 1966 Julio Jones [WR] [A]
Cincinnati Bengals est. 1970 A.J. Green [WR] [A]
Houston Texans est. 2002 Andre Johnson [WR] [A]
New England Patriots est. 1971 Wes Welker [WR] [A]
New York Giants est. 1925 Hakeem Nicks [WR] [B]
Atlanta Falcons est. 1966 Roddy White [WR] [B]
Chicago Bears est. 1920 Brandon Marshall [WR] [B]
New York Giants est. 1925 Victor Cruz [WR] [B]
Green Bay Packers est. 1919 Greg Jennings [WR] [B]
Green Bay Packers est. 1919 Jordy Nelson [WR] [B]
Dallas Cowboys est. 1960 Dez Bryant [WR] [B]
Carolina Panthers est. 1995 Steve Smith [WR] [C]
Minnesota Vikings est. 1961 Percy Harvin [WR] [C]
Pittsburgh Steelers est. 1940 Mike Wallace [WR] [C]
New Orleans Saints est. 1967 Marques Colston [WR] [C]
Denver Broncos est. 1970 Demaryius Thomas [WR] [C]
Tampa Bay Buccaneers est. 1976 Vincent Jackson [WR] [C]
Philadelphia Eagles est. 1933 Jeremy Maclin [WR] [C]
New England Patriots est. 1971 Brandon Lloyd [WR] [C]
Kansas City Chiefs est. 1970 Dwayne Bowe [WR] [C]
Dallas Cowboys est. 1960 Miles Austin [WR] [D]
Denver Broncos est. 1970 Eric Decker [WR] [D]
Buffalo Bills est. 1970 Steve Johnson [WR] [D]
Pittsburgh Steelers est. 1940 Antonio Brown [WR] [D]
Tennessee Titans est. 1999 Kenny Britt [WR] [D]
Philadelphia Eagles est. 1933 DeSean Jackson [WR] [D]
Indianapolis Colts est. 1984 Reggie Wayne [WR] [D]
Baltimore Ravens est. 1996 Torrey Smith [WR] [D]
Washington Redskins est. 1937 Pierre Garcon [WR] [D]
San Diego Chargers est. 1970 Robert Meachem [WR] [D]
Detroit Lions est. 1934 Titus Young [WR] [D]
San Diego Chargers est. 1970 Malcom Floyd [WR] [D]
Jacksonville Jaguars est. 1995 Justin Blackmon [WR] [D]
Baltimore Ravens est. 1996 Anquan Boldin [WR] [F]
New York Jets est. 1970 Santonio Holmes [WR] [F]
San Francisco 49ers est. 1946 Michael Crabtree [WR] [F]
Oakland Raiders est. 1995 Denarius Moore [WR] [F]
Cleveland Browns est. 1946 Greg Little [WR] [F]
Oakland Raiders est. 1995 Darrius Heyward-Bey [WR] [F]
Tampa Bay Buccaneers est. 1976 Mike Williams [WR] [F]
New Orleans Saints est. 1967 Lance Moore [WR] [F]
Seattle Seahawks est. 1976 Sidney Rice [WR] [F]
Tennessee Titans est. 1999 Kendall Wright [WR] [F]
Tennessee Titans est. 1999 Nate Washington [WR] [F]
Jacksonville Jaguars est. 1995 Laurent Robinson [WR] [F]
San Francisco 49ers est. 1946 Mario Manningham [WR] [F]
Carolina Panthers est. 1995 Brandon LaFell [WR] [F]
Indianapolis Colts est. 1984 Austin Collie [WR] [F]
Cincinnati Bengals est. 1970 Armon Binns [WR] [F]
Houston Texans est. 2002 Arian Foster [RB] [A]
Philadelphia Eagles est. 1933 LeSean McCoy [RB] [A]
Baltimore Ravens est. 1996 Ray Rice [RB] [A]
Oakland Raiders est. 1995 Darren McFadden [RB] [A]
Minnesota Vikings est. 1961 Adrian Peterson [RB] [B]
Buffalo Bills est. 1970 C.J. Spiller [RB] [B]
Dallas Cowboys est. 1960 DeMarco Murray [RB] [B]
Chicago Bears est. 1920 Matt Forte [RB] [B]
Kansas City Chiefs est. 1970 Jamaal Charles [RB] [C]
New England Patriots est. 1971 Stevan Ridley [RB] [C]
Carolina Panthers est. 1995 Maurice Jones-Drew [RB] [C]
Tampa Bay Buccaneers est. 1976 Doug Martin [RB] [C]
New York Giants est. 1925 Ahmad Bradshaw [RB] [C]
Miami Dolphins est. 1970 Reggie Bush [RB] [C]
Cincinnati Bengals est. 1970 BenJarvus Green-Ellis [RB] [D]
Tennessee Titans est. 1999 Chris Johnson [RB] [D]
San Francisco 49ers est. 1946 Frank Gore [RB] [D]
Seattle Seahawks est. 1976 Marshawn Lynch [RB] [D]
St. Louis Rams est. 1995 Steven Jackson [RB] [D]
Cleveland Browns est. 1946 Trent Richardson [RB] [D]
New York Jets est. 1970 Shonn Greene [RB] [D]
San Diego Chargers est. 1970 Darren Sproles [RB] [D]
Indianapolis Colts est. 1984 Donald Brown [RB] [F]
Detroit Lions est. 1934 Kevin Smith [RB] [F]
Denver Broncos est. 1970 Willis McGahee [RB] [F]
Washington Redskins est. 1937 Alfred Morris [RB] [F]
Atlanta Falcons est. 1966 Michael Turner [RB] [F]
Green Bay Packers est. 1919 Cedric Benson [RB] [F]
Chicago Bears est. 1920 Michael Bush [RB] [F]
New Orleans Saints est. 1967 Mike Ingram [RB] [F]
Pittsburgh Steelers est. 1940 Jonathan Dwyer [RB] [F]
Carolina Panthers est. 1995 Jonathan Stewart [RB] [F]
New York Giants est. 1925 Jason Pierre-Paul [DL] [A]
Minnesota Vikings est. 1961 Jared Allen [DL] [A]
Philadelphia Eagles est. 1933 Trent Cole [DL] [A]
New York Giants est. 1925 Justin Tuck [DL] [A]
Buffalo Bills est. 1970 Mario Williams [DL] [A]
Chicago Bears est. 1920 Julius Peppers [DL] [A]
Arizona Cardinals est. 1994 Calais Campbell [DL] [B]
Denver Broncos est. 1970 Elvis Dumervil [DL] [B]
Philadelphia Eagles est. 1933 Jason Babin [DL] [B]
Houston Texans est. 2002 J.J. Watt [DL] [B]
Miami Dolphins est. 1970 Cameron Wake [DL] [B]
Detroit Lions est. 1934 Cliff Avril [DL] [B]
St. Louis Rams est. 1995 Chris Long [DL] [B]
Cleveland Browns est. 1946 Jabaal Sheard [DL] [C]
Jacksonville Jaguars est. 1995 Jeremy Mincey [DL] [C]
Carolina Panthers est. 1995 Charles Johnson [DL] [C]
San Francisco 49ers est. 1946 Justin Smith [DL] [C]
Baltimore Ravens est. 1996 Haloti Ngata [DL] [C]
New York Giants est. 1925 Osi Umenyiora [DL] [C]
Tennessee Titans est. 1999 Kamerion Wimbley [DL] [C]
Seattle Seahawks est. 1976 Chris Clemons [DL] [C]
Cleveland Browns est. 1946 Ahtyba Rubin [DL] [C]
Detroit Lions est. 1934 Ndamukong Suh [DL] [D]
Minnesota Vikings est. 1961 Brian Robison [DL] [D]
St. Louis Rams est. 1995 Robert Quinn [DL] [D]
Atlanta Falcons est. 1966 John Abraham [DL] [D]
Oakland Raiders est. 1995 Tommy Kelly [DL] [D]
Oakland Raiders est. 1995 Matt Shaughnessy [DL] [D]
Cincinnati Bengals est. 1970 Carlos Dunlap [DL] [D]
Carolina Panthers est. 1995 Greg Hardy [DL] [D]
Detroit Lions est. 1934 Kyle Vanden Bosch [DL] [D]
Indianapolis Colts est. 1984 Dwight Freeney [DL] [D]
Tampa Bay Buccaneers est. 1976 Adrian Clayborn [DL] [D]
Buffalo Bills est. 1970 Mark Anderson [DL] [D]
Buffalo Bills est. 1970 Kyle Williams [DL] [D]
Tennessee Titans est. 1999 Derrick Morgan [DL] [F]
Cincinnati Bengals est. 1970 Michael Johnson [DL] [F]
Arizona Cardinals est. 1994 Darnell Dockett [DL] [F]
Jacksonville Jaguars est. 1995 Andre Branch [DL] [F]
Cincinnati Bengals est. 1970 Geno Atkins [DL] [F]
San Francisco 49ers est. 1946 Ray McDonald [DL] [F]
New England Patriots est. 1971 Chandler Jones [DL] [F]
Tampa Bay Buccaneers est. 1976 Michael Bennett [DL] [F]
New York Jets est. 1970 Sione Pouha [DL] [F]
Buffalo Bills est. 1970 Marcell Dareus [DL] [F]
Pittsburgh Steelers est. 1940 Brett Keisel [DL] [F]
Tampa Bay Buccaneers est. 1976 Gerald McCoy [DL] [F]
Cincinnati Bengals est. 1970 Domata Peko [DL] [F]
New England Patriots est. 1971 Vince Wilfork [DL] [F]
Atlanta Falcons est. 1966 Ray Edwards [DL] [F]
Green Bay Packers est. 1919 Ryan Pickett [DL] [F]
Kansas City Chiefs est. 1970 Eric Berry [DB] [A]
Seattle Seahawks est. 1976 Kam Chancellor [DB] [A]
Chicago Bears est. 1920 Charles Tillman [DB] [A]
Green Bay Packers est. 1919 Morgan Burnett [DB] [A]
Oakland Raiders est. 1995 Tyvon Branch [DB] [A]
Tennessee Titans est. 1999 Jason McCourty [DB] [A]
Baltimore Ravens est. 1996 Bernard Pollard [DB] [B]
Green Bay Packers est. 1919 Charles Woodson [DB] [B]
Buffalo Bills est. 1970 George Wilson [DB] [B]
New Orleans Saints est. 1967 Roman Harper [DB] [B]
Pittsburgh Steelers est. 1940 Troy Polamalu [DB] [B]
Buffalo Bills est. 1970 Jairus Byrd [DB] [B]
Tampa Bay Buccaneers est. 1976 Mark Barron [DB] [B]
New England Patriots est. 1971 Patrick Chung [DB] [C]
Indianapolis Colts est. 1984 Antoine Bethea [DB] [C]
Seattle Seahawks est. 1976 Earl Thomas [DB] [C]
San Francisco 49ers est. 1946 Dashon Goldson [DB] [C]
San Diego Chargers est. 1970 Eric Weddle [DB] [C]
Cleveland Browns est. 1946 T.J. Ward [DB] [C]
New York Jets est. 1970 LaRon Landry [DB] [C]
St. Louis Rams est. 1995 Quintin Mikell [DB] [C]
Baltimore Ravens est. 1996 Lardarius Webb [DB] [C]
Cleveland Browns est. 1946 Joe Haden [DB] [D]
Washington Redskins est. 1937 Deangelo Hall [DB] [D]
Cincinnati Bengals est. 1970 Reggie Nelson [DB] [D]
St. Louis Rams est. 1995 Cortland Finnegan [DB] [D]
New England Patriots est. 1971 Kyle Arrington [DB] [D]
New England Patriots est. 1971 Devin McCourty [DB] [D]
Tennessee Titans est. 1999 Alterraun Verner [DB] [D]
New York Giants est. 1925 Prince Amukamara [DB] [D]
New York Jets est. 1970 Yeremiah Bell [DB] [D]
Detroit Lions est. 1934 Louis Delmas [DB] [D]
Carolina Panthers est. 1995 Charles Godfrey [DB] [D]
Indianapolis Colts est. 1984 Vontae Davis [DB] [D]
Jacksonville Jaguars est. 1995 Dawan Landry [DB] [D]
Tennessee Titans est. 1999 Jordan Babineaux [DB] [F]
Seattle Seahawks est. 1976 Brandon Browner [DB] [F]
Minnesota Vikings est. 1961 Antoine Winfield [DB] [F]
New York Giants est. 1925 Antrel Rolle [DB] [F]
Arizona Cardinals est. 1994 Kerry Rhodes [DB] [F]
Arizona Cardinals est. 1994 Patrick Peterson [DB] [F]
Denver Broncos est. 1970 Tracy Porter [DB] [F]
St. Louis Rams est. 1995 Darian Stewart [DB] [F]
Kansas City Chiefs est. 1970 Brandon Flowers [DB] [F]
Tampa Bay Buccaneers est. 1976 Aqib Talib [DB] [F]
Minnesota Vikings est. 1961 Harrison Smith [DB] [F]
Green Bay Packers est. 1919 Tramon Williams [DB] [F]
New York Jets est. 1970 Darrelle Revis [DB] [F]
Tampa Bay Buccaneers est. 1976 Ronde Barber [DB] [F]
San Francisco 49ers est. 1946 Donte Whitner [DB] [F]
San Francisco 49ers est. 1946 David Akers [K] [A]
New England Patriots est. 1971 Stephen Gostkowski [K] [A]
Oakland Raiders est. 1995 Sebastian Janikowski [K] [A]
Green Bay Packers est. 1919 Mason Crosby [K] [A]
New Orleans Saints est. 1967 Garrett Hartley [K] [B]
Dallas Cowboys est. 1960 Dan Bailey [K] [B]
Atlanta Falcons est. 1966 Matt Bryant [K] [B]
Denver Broncos est. 1970 Matt Prater [K] [B]
Philadelphia Eagles est. 1933 Alex Henery [K] [C]
Houston Texans est. 2002 Shayne Graham [K] [C]
Detroit Lions est. 1934 Jason Hanson [K] [C]
San Diego Chargers est. 1970 Nate Kaeding [K] [C]
Chicago Bears est. 1920 Robbie Gould [K] [C]
Tennessee Titans est. 1999 Rob Bironas [K] [C]
Cincinnati Bengals est. 1970 Mike Nugent [K] [D]
Minnesota Vikings est. 1961 Blair Walsh [K] [D]
Washington Redskins est. 1937 Billy Cundiff [K] [D]
Baltimore Ravens est. 1996 Justin Tucker [K] [D]
Miami Dolphins est. 1970 Dan Carpenter [K] [D]
New York Giants est. 1925 Lawrence Tynes [K] [D]
New York Jets est. 1970 Nick Folk [K] [D]
Seattle Seahawks est. 1976 Steven Hauschka [K] [D]
Buffalo Bills est. 1970 Rian Lindell [K] [F]
Pittsburgh Steelers est. 1940 Shaun Suisham [K] [F]
Carolina Panthers est. 1995 Justin Medlock [K] [F]
Indianapolis Colts est. 1984 Adam Vinatieri [K] [F]
Arizona Cardinals est. 1994 Jay Feely [K] [F]
Tampa Bay Buccaneers est. 1976 Connor Barth [K] [F]
St. Louis Rams est. 1995 Greg Zuerlein [K] [F]
Cleveland Browns est. 1946 Phil Dawson [K] [F]
Kansas City Chiefs est. 1970 Ryan Succop [K] [F]
Jacksonville Jaguars est. 1995 Josh Scobee [K] [F]
New England Patriots est. 1971 Rob Gronkowski [TE] [A]
New Orleans Saints est. 1967 Jimmy Graham [TE] [A]
Green Bay Packers est. 1919 Jermichael Finley [TE] [A]
San Francisco 49ers est. 1946 Vernon Davis [TE] [B]
San Diego Chargers est. 1970 Antonio Davis [TE] [B]
Dallas Cowboys est. 1960 Jason Witten [TE] [B]
New England Patriots est. 1971 Aaron Hernandez [TE] [C]
Detroit Lions est. 1934 Brandon Pettigrew [TE] [C]
Denver Broncos est. 1970 Jacob Tamme [TE] [C]
Atlanta Falcons est. 1966 Tony Gonzalez [TE] [C]
Washington Redskins est. 1937 Fred Davis [TE] [C]
New York Jets est. 1970 Dustin Keller [TE] [D]
Cincinnati Bengals est. 1970 Jermaine Gresham [TE] [D]
Philadelphia Eagles est. 1933 Brent Celek [TE] [D]
Houston Texans est. 2002 Owen Daniels [TE] [D]
Tennessee Titans est. 1999 Jared Cook [TE] [D]
Seattle Seahawks est. 1976 Kellen Winslow [TE] [D]
Indianapolis Colts est. 1984 Coby Fleener [TE] [F]
Carolina Panthers est. 1995 Greg Olsen [TE] [F]
Miami Dolphins est. 1970 Anthony Fasano [TE] [F]
Pittsburgh Steelers est. 1940 Heath Miller [TE] [F]
New York Giants est. 1925 Martellus Bennett [TE] [F]
Jacksonville Jaguars est. 1995 Marcedes Lewis [TE] [F]
Minnesota Vikings est. 1961 Kyle Rudolph [TE] [F]
Buffalo Bills est. 1970 Scott Chandler [TE] [F]
Carolina Panthers est. 1995 Luke Kuechly [LB] [A]
St. Louis Rams est. 1995 James Laurinaitis [LB] [A]
Kansas City Chiefs est. 1970 Derrick Johnson [LB] [A]
San Francisco 49ers est. 1946 Navorro Bowman [LB] [B]
Seattle Seahawks est. 1976 Bobby Wagner [LB] [B]
Tampa Bay Buccaneers est. 1976 Lavonte David [LB] [B]
Jacksonville Jaguars est. 1995 Paul Posluszny [LB] [C]
Dallas Cowboys est. 1960 Sean Lee [LB] [C]
Minnesota Vikings est. 1961 Chad Greenway [LB] [C]
Cleveland Browns est. 1946 DQwell Jackson [LB] [C]
New England Patriots est. 1971 Jerod Mayo [LB] [C]
San Francisco 49ers est. 1946 Patrick Willis [LB] [D]
Denver Broncos est. 1970 Von Miller [LB] [D]
Pittsburgh Steelers est. 1940 Lawrence Timmons [LB] [D]
Houston Texans est. 2002 Brian Cushing [LB] [D]
Arizona Cardinals est. 1994 Daryl Washington [LB] [D]
Washington Redskins est. 1937 London Fletcher [LB] [D]
Denver Broncos est. 1970 Wesley Woodyard [LB] [F]
Minnesota Vikings est. 1961 Desmond Bishop [LB] [F]
Atlanta Falcons est. 1966 Sean Weatherspoon [LB] [F]
Indianapolis Colts est. 1984 Jerrell Freeman [LB] [F]
Tennessee Titans est. 1999 Colin McCarthy [LB] [F]
Miami Dolphins est. 1970 Dannell Ellerbe [LB] [F]
San Diego Chargers est. 1970 Donald Butler [LB] [F]
New Orleans Saints est. 1967 Curtis Lofton [LB] [F]
2006 Edition
Indianapolis Colts est. 1984 Peyton Manning [QB] [A]
New England Patriots est. 1971 Tom Brady [QB] [A]
Oakland Raiders est. 1995 Carson Palmer [QB] [A]
New York Giants est. 1925 Eli Manning [QB] [A]
Seattle Seahawks est. 1976 Matt Hasselbeck [QB] [B]
New England Patriots est. 1971 Drew Bledsoe [QB] [B]
St. Louis Rams est. 1995 Marc Bulger [QB] [B]
Philadelphia Eagles est. 1933 Donovan McNabb [QB] [B]
Kansas City Chiefs est. 1970 Trent Green [QB] [B]
Arizona Cardinals est. 1994 Kurt Warner [QB] [C]
Carolina Panthers est. 1995 Jake Delhomme [QB] [C]
Baltimore Ravens est. 1996 Steve McNair [QB] [C]
Atlanta Falcons est. 1966 Michael Vick [QB] [C]
Denver Broncos est. 1970 Jake Plummer [QB] [C]
New Orleans Saints est. 1967 Aaron Brooks [QB] [C]
Minnesota Vikings est. 1961 Daunte Culpepper [QB] [D]
San Diego Chargers est. 1970 Philip Rivers [QB] [D]
Pittsburgh Pirates est. 1933 Byron Leftwich [QB] [D]
Green Bay Packers est. 1919 Brett Favre [QB] [D]
Detroit Lions est. 1934 Jon Kitna [QB] [D]
Houston Texans est. 2002 David Carr [QB] [D]
Cleveland Browns est. 1946 Charlie Frye [QB] [D]
New Orleans Saints est. 1967 Drew Brees [QB] [D]
Pittsburgh Steelers est. 1940 Ben Roethlisberger [QB] [D]
Tampa Bay Buccaneers est. 1976 Chris Simms [QB] [D]
Jacksonville Jaguars est. 1995 Mark Brunell [QB] [F]
Minnesota Vikings est. 1961 Brad Johnson [QB] [F]
Buffalo Bills est. 1970 J.P. Losman [QB] [F]
San Francisco 49ers est. 1946 Alex Smith [QB] [F]
New York Jets est. 1970 Chad Pennington [QB] [F]
Chicago Bears est. 1920 Brian Griese [QB] [F]
Tennessee Titans est. 1999 Kerry Collins [QB] [F]
Washington Redskins est. 1937 Patrick Ramsey [QB] [F]
Tennessee Titans est. 1999 Vince Young [QB] [F]
Arizona Cardinals est. 1994 Matt Leinart [QB] [F]
Chicago Bears est. 1920 Rex Grossman [QB] [F]
St. Louis Rams est. 1995 Torry Holt [WR] [A]
Cincinnati Bengals est. 1970 Chad Johnson [WR] [A]
Carolina Panthers est. 1995 Steve Smith [WR] [A]
Arizona Cardinals est. 1994 Anquan Boldin [WR] [A]
Arizona Cardinals est. 1994 Larry Fitzgerald [WR] [A]
Oakland Raiders est. 1995 Randy Moss [WR] [A]
Dallas Cowboys est. 1960 Terrell Owens [WR] [B]
Indianapolis Colts est. 1984 Marvin Harrison [WR] [B]
Indianapolis Colts est. 1984 Reggie Wayne [WR] [B]
Green Bay Packers est. 1919 Donald Driver [WR] [B]
Detroit Lions est. 1934 Roy Williams [WR] [B]
Miami Dolphins est. 1970 Chris Chambers [WR] [B]
Baltimore Ravens est. 1996 Derrick Mason [WR] [B]
Seattle Seahawks est. 1976 Darrell Jackson [WR] [C]
Houston Texans est. 2002 Andre Johnson [WR] [C]
New York Giants est. 1925 Plaxico Burress [WR] [C]
Washington Redskins est. 1937 Santana Moss [WR] [C]
Pittsburgh Steelers est. 1940 Hines Ward [WR] [C]
New Orleans Saints est. 1967 Joe Horn [WR] [C]
Cincinnati Bengals est. 1970 T.J. Houshmandzadeh [WR] [C]
Denver Broncos est. 1970 Rod Smith [WR] [C]
Buffalo Bills est. 1970 Lee Evans [WR] [C]
Kansas City Chiefs est. 1970 Eddie Kennison [WR] [D]
New York Jets est. 1970 Laveranues Coles [WR] [D]
Green Bay Packers est. 1919 Javon Walker [WR] [D]
Jacksonville Jaguars est. 1995 Matt Jones [WR] [D]
Cleveland Browns est. 1946 Joe Jurevicius [WR] [D]
Philadelphia Eagles est. 1933 Reggie Brown [WR] [D]
Dallas Cowboys est. 1960 Terry Glenn [WR] [D]
St. Louis Rams est. 1995 Isaac Bruce [WR] [D]
Minnesota Vikings est. 1961 Nate Burleson [WR] [D]
Chicago Bears est. 1920 Muhsin Muhammad [WR] [D]
New England Patriots est. 1971 David Givens [WR] [D]
Tampa Bay Buccaneers est. 1976 Michael Clayton [WR] [D]
Carolina Panthers est. 1995 Keyshawn Johnson [WR] [D]
Tampa Bay Buccaneers est. 1976 Joey Galloway [WR] [F]
Cleveland Browns est. 1946 Antonio Bryant [WR] [F]
Buffalo Bills est. 1970 Eric Moulds [WR] [F]
San Diego Chargers est. 1970 Keenan McCardell [WR] [F]
New Orleans Saints est. 1967 Donte Stallworth [WR] [F]
Minnesota Vikings est. 1961 Troy Williamson [WR] [F]
Kansas City Chiefs est. 1970 Samie Parker [WR] [F]
Detroit Lions est. 1934 Corey Bradford [WR] [F]
Oakland Raiders est. 1995 Jerry Porter [WR] [F]
Tennessee Titans est. 1999 Drew Bennett [WR] [F]
San Diego Chargers est. 1970 Reche Caldwell [WR] [F]
New York Jets est. 1970 Justin McCareins [WR] [F]
New York Giants est. 1925 Amani Toomer [WR] [F]
Minnesota Vikings est. 1961 Travis Taylor [WR] [F]
San Diego Chargers est. 1970 Eric Parker [WR] [F]
Kansas City Chiefs est. 1970 Larry Johnson [RB] [A]
San Diego Chargers est. 1970 LaDainian Tomlinson [RB] [A]
Seattle Seahawks est. 1976 Shaun Alexander [RB] [A]
New York Giants est. 1925 Tiki Barber [RB] [A]
Miami Dolphins est. 1970 Ronnie Brown [RB] [B]
St. Louis Rams est. 1995 Steven Jackson [RB] [B]
Arizona Cardinals est. 1994 Edgerrin James [RB] [B]
Tampa Bay Buccaneers est. 1976 Carnell Williams [RB] [B]
Cincinnati Bengals est. 1970 Rudi Johnson [RB] [B]
Denver Broncos est. 1970 Clinton Portis [RB] [C]
Buffalo Bills est. 1970 Willis McGahee [RB] [C]
Oakland Raiders est. 1995 Lamont Jordan [RB] [C]
Philadelphia Eagles est. 1933 Brian Westbrook [RB] [C]
Detroit Lions est. 1934 Kevin Jones [RB] [C]
Minnesota Vikings est. 1961 Chester Taylor [RB] [C]
Pittsburgh Steelers est. 1940 Willie Parker [RB] [D]
Dallas Cowboys est. 1960 Julius Jones [RB] [D]
Denver Broncos est. 1970 Mike Bell [RB] [D]
San Francisco 49ers est. 1946 Frank Gore [RB] [D]
New Orleans Saints est. 1967 Reggie Bush [RB] [D]
Atlanta Falcons est. 1966 Warrick Dunn [RB] [D]
Cleveland Browns est. 1946 Reuben Droughns [RB] [D]
Baltimore Ravens est. 1996 Jamal Lewis [RB] [D]
Indianapolis Colts est. 1984 Dominic Rhodes [RB] [D]
Green Bay Packers est. 1919 Cedric Benson [RB] [D]
New England Patriots est. 1971 Corey Dillon [RB] [F]
Tennessee Titans est. 1999 Chris Brown [RB] [F]
Carolina Panthers est. 1995 DeAngelo Williams [RB] [F]
Carolina Panthers est. 1995 Deshaun Foster [RB] [F]
Chicago Bears est. 1920 Thomas Jones [RB] [F]
Jacksonville Jaguars est. 1995 Fred Taylor [RB] [F]
Houston Texans est. 2002 Wali Lundy [RB] [F]
Green Bay Packers est. 1919 Ahman Green [RB] [F]
New Orleans Saints est. 1967 Deuce McAllister [RB] [F]
Dallas Cowboys est. 1960 Marion Barber [RB] [F]
Denver Broncos est. 1970 Tatum Bell [RB] [F]
Miami Dolphins est. 1970 Jason Taylor [DL] [A]
New York Giants est. 1925 Osi Umenyiora [DL] [A]
New York Giants est. 1925 Michael Strahan [DL] [A]
Buffalo Bills est. 1970 Aaron Schobel [DL] [A]
Baltimore Ravens est. 1996 Terrell Suggs [DL] [A]
Carolina Panthers est. 1995 Julius Peppers [DL] [A]
New Orleans Saints est. 1967 Charles Grant [DL] [B]
Tennessee Titans est. 1999 Kyle Vanden Bosch [DL] [B]
Atlanta Falcons est. 1966 John Abraham [DL] [B]
Oakland Raiders est. 1995 Derrick Burgess [DL] [B]
New Orleans Saints est. 1967 Will Smith [DL] [B]
Arizona Cardinals est. 1994 Bert Berry [DL] [B]
Atlanta Falcons est. 1966 Patrick Kerney [DL] [B]
Chicago Bears est. 1920 Adewale Ogunleye [DL] [C]
Indianapolis Colts est. 1984 Dwight Freeney [DL] [C]
Kansas City Chiefs est. 1970 Jared Allen [DL] [C]
Jacksonville Jaguars est. 1995 John Henderson [DL] [C]
Tampa Bay Buccaneers est. 1976 Simeon Rice [DL] [C]
Indianapolis Colts est. 1984 Robert Mathis [DL] [C]
Cleveland Browns est. 1946 Orpheus Roye [DL] [C]
St. Louis Rams est. 1995 Leonard Little [DL] [C]
Green Bay Packers est. 1919 Aaron Kampman [DL] [C]
Minnesota Vikings est. 1961 Kevin Williams [DL] [D]
Philadelphia Eagles est. 1933 Darren Howard [DL] [D]
New England Patriots est. 1971 Richard Seymour [DL] [D]
Houston Texans est. 2002 Mario Williams [DL] [D]
Chicago Bears est. 1920 Alex Brown [DL] [D]
Cincinnati Bengals est. 1970 Justin Smith [DL] [D]
Carolina Panthers est. 1995 Mike Rucker [DL] [D]
Detroit Lions est. 1934 James Hall [DL] [D]
Atlanta Falcons est. 1966 Rod Coleman [DL] [D]
Green Bay Packers est. 1919 Kabeer Gbaja-Biamila [DL] [D]
Washington Redskins est. 1937 Cornelius Griffin [DL] [D]
Philadelphia Eagles est. 1933 Jevon Kearse [DL] [D]
Minnesota Vikings est. 1961 Erasmus James [DL] [D]
St. Louis Rams est. 1995 Anthony Hargrove [DL] [F]
Seattle Seahawks est. 1976 Grant Wistrom [DL] [F]
Miami Dolphins est. 1970 Vonnie Holliday [DL] [F]
Indianapolis Colts est. 1984 Monte Reagor [DL] [F]
Arizona Cardinals est. 1994 Chike Okeafor [DL] [F]
Seattle Seahawks est. 1976 Bryce Fisher [DL] [F]
Detroit Lions est. 1934 Shaun Rogers [DL] [F]
San Diego Chargers est. 1970 Luis Castillo [DL] [F]
Washington Redskins est. 1937 Andre Carter [DL] [F]
Indianapolis Colts est. 1984 Raheem Brock [DL] [F]
Seattle Seahawks est. 1976 Robert Bernard [DL] [F]
Tennessee Titans est. 1999 Travis Laboy [DL] [F]
Minnesota Vikings est. 1961 Kenechi Udeze [DL] [F]
Baltimore Ravens est. 1996 Trevor Pryce [DL] [F]
San Francisco 49ers est. 1946 Marques Douglas [DL] [F]
Arizona Cardinals est. 1994 Adrian Wilson [DB] [A]
New York Giants est. 1925 Gibril Wilson [DB] [A]
Pittsburgh Steelers est. 1940 Troy Polamalu [DB] [A]
Philadelphia Eagles est. 1933 Michael Lewis [DB] [A]
Dallas Cowboys est. 1960 Roy Williams [DB] [A]
New England Patriots est. 1971 Rodney Harrison [DB] [A]
Tampa Bay Buccaneers est. 1976 Ronde Barber [DB] [B]
Baltimore Ravens est. 1996 Ed Reed [DB] [B]
Philadelphia Eagles est. 1933 Brian Dawkins [DB] [B]
Chicago Bears est. 1920 Mike Brown [DB] [B]
Indianapolis Colts est. 1984 Bob Sanders [DB] [B]
Chicago Bears est. 1920 Charles Tillman [DB] [B]
Minnesota Vikings est. 1961 Antoine Winfield [DB] [B]
New York Jets est. 1970 Erik Coleman [DB] [C]
Seattle Seahawks est. 1976 Michael Bouleware [DB] [C]
Buffalo Bills est. 1970 Nate Clements [DB] [C]
Washington Redskins est. 1937 Adam Archuleta [DB] [C]
Cincinnati Bengals est. 1970 Madieu Williams [DB] [C]
Washington Redskins est. 1937 Sean Taylor [DB] [C]
Kansas City Chiefs est. 1970 Sammy Knight [DB] [C]
Green Bay Packers est. 1919 Marquand Manuel [DB] [C]
Detroit Lions est. 1934 Kennoy Kennedy [DB] [C]
New Orleans Saints est. 1967 Tony Parrish [DB] [D]
Seattle Seahawks est. 1976 Ken Hamlin [DB] [D]
Buffalo Bills est. 1970 Donte Whitner [DB] [D]
Houston Texans est. 2002 Dunta Robinson [DB] [D]
Oakland Raiders est. 1995 Michael Huff [DB] [D]
New York Jets est. 1970 Kerry Rhodes [DB] [D]
Pittsburgh Steelers est. 1940 Ike Taylor [DB] [D]
Seattle Seahawks est. 1976 Ken Lucas [DB] [D]
Tennessee Titans est. 1999 Chris Hope [DB] [D]
Kansas City Chiefs est. 1970 Greg Wesley [DB] [D]
St. Louis Rams est. 1995 Cory Chavous [DB] [D]
Denver Broncos est. 1970 Champ Bailey [DB] [D]
Carolina Panthers est. 1995 Chris Gamble [DB] [D]
San Francisco 49ers est. 1946 Shawntee Spencer [DB] [F]
San Diego Chargers est. 1970 Marlon McCree [DB] [F]
Atlanta Falcons est. 1966 DeAngelo Hall [DB] [F]
New Orleans Saints est. 1967 Josh Bullocks [DB] [F]
Buffalo Bills est. 1970 Terrence McGee [DB] [F]
Green Bay Packers est. 1919 Nick Collins [DB] [F]
Minnesota Vikings est. 1961 Darren Sharper [DB] [F]
New York Giants est. 1925 Will Demps [DB] [F]
San Diego Chargers est. 1970 Terrance Kiel [DB] [F]
Arizona Cardinals est. 1994 Antrel Rolle [DB] [F]
Cleveland Browns est. 1946 Brodney Pool [DB] [F]
Jacksonville Jaguars est. 1995 Rashean Mathis [DB] [F]
St. Louis Rams est. 1995 Jerametrius Butler [DB] [F]
Houston Texans est. 2002 CC Brown [DB] [F]
Dallas Cowboys est. 1960 Anthony Henry [DB] [F]
New York Giants est. 1925 Jay Feely [K] [A]
Denver Broncos est. 1970 Jason Elam [K] [A]
Cincinnati Bengals est. 1970 Shayne Graham [K] [A]
Philadelphia Eagles est. 1933 David Akers [K] [B]
Indianapolis Colts est. 1984 Adam Vinatieri [K] [B]
Arizona Cardinals est. 1994 Neil Rackers [K] [B]
Carolina Panthers est. 1995 John Kasay [K] [B]
Baltimore Ravens est. 1996 Matt Stover [K] [B]
Seattle Seahawks est. 1976 Josh Brown [K] [C]
Pittsburgh Steelers est. 1940 Jeff Reed [K] [C]
Kansas City Chiefs est. 1970 Lawrence Tynes [K] [C]
San Diego Chargers est. 1970 Nate Kaeding [K] [C]
St. Louis Rams est. 1995 Jeff Wilkins [K] [C]
New England Patriots est. 1971 Stephen Gostkowski [K] [D]
Oakland Raiders est. 1995 Sebastian Janikowski [K] [D]
Buffalo Bills est. 1970 Rian Lindell [K] [D]
New Orleans Saints est. 1967 John Carney [K] [D]
Minnesota Vikings est. 1961 Ryan Longwell [K] [D]
Dallas Cowboys est. 1960 Mike Vanderjagt [K] [D]
Detroit Lions est. 1934 Jason Hanson [K] [D]
Washington Redskins est. 1937 John Hall [K] [D]
Jacksonville Jaguars est. 1995 Josh Scobee [K] [F]
Miami Dolphins est. 1970 Olindo Mare [K] [F]
Cleveland Browns est. 1946 Phil Dawson [K] [F]
Tennessee Titans est. 1999 Rob Bironas [K] [F]
Houston Texans est. 2002 Kris Brown [K] [F]
New York Jets est. 1970 Mike Nugent [K] [F]
Tampa Bay Buccaneers est. 1976 Matt Bryant [K] [F]
San Francisco 49ers est. 1946 Joe Nedney [K] [F]
Chicago Bears est. 1920 Robbie Gould [K] [F]
San Diego Chargers est. 1970 Antonio Gates [TE] [A]
New York Giants est. 1925 Jeremy Shockey [TE] [A]
Baltimore Ravens est. 1996 Todd Heap [TE] [A]
Atlanta Falcons est. 1966 Alge Crumpler [TE] [B]
Kansas City Chiefs est. 1970 Tony Gonzalez [TE] [B]
Philadelphia Eagles est. 1933 L.J. Smith [TE] [B]
Dallas Cowboys est. 1960 Jason Witten [TE] [B]
Pittsburgh Steelers est. 1940 Heath Miller [TE] [C]
Washington Redskins est. 1937 Chris Cooley [TE] [C]
New England Patriots est. 1971 Ben Watson [TE] [C]
Miami Dolphins est. 1970 Randy McMichael [TE] [C]
Tennessee Titans est. 1999 Ben Troupe [TE] [D]
Green Bay Packers est. 1919 Bubba Franks [TE] [D]
San Francisco 49ers est. 1946 Vernon Davis [TE] [D]
Indianapolis Colts est. 1984 Dallas Clark [TE] [D]
Minnesota Vikings est. 1961 Jermaine Wiggins [TE] [D]
Cleveland Browns est. 1946 Kellen Winslow [TE] [D]
Denver Broncos est. 1970 Tony Scheffler [TE] [D]
Tampa Bay Buccaneers est. 1976 Alex Smith [TE] [F]
Tennessee Titans est. 1999 Erron Kinney [TE] [F]
New York Jets est. 1970 Chris Baker [TE] [F]
Arizona Cardinals est. 1994 Leonard Pope [TE] [F]
Jacksonville Jaguars est. 1995 Marcedes Lewis [TE] [F]
Buffalo Bills est. 1970 Mark Campbell [TE] [F]
Denver Broncos est. 1970 Jeb Putzier [TE] [F]
New York Jets est. 1970 Doug Jolley [TE] [F]
Baltimore Ravens est. 1996 Ray Lewis [LB] [A]
New England Patriots est. 1971 Jerod Mayo [LB] [A]
Pittsburgh Steelers est. 1940 Lawrence Timmons [LB] [A]
Chicago Bears est. 1920 Brian Urlacher [LB] [B]
San Francisco 49ers est. 1946 Patrick Willis [LB] [B]
Kansas City Chiefs est. 1970 Tamba Hali [LB] [B]
Pittsburgh Steelers est. 1940 James Harrison [LB] [C]
Green Bay Packers est. 1919 Clay Matthews [LB] [C]
Baltimore Ravens est. 1996 Terrell Suggs [LB] [C]
Dallas Cowboys est. 1960 DeMarcus Ware [LB] [C]
Carolina Panthers est. 1995 Jon Beason [LB] [C]
Chicago Bears est. 1920 Lance Briggs [LB] [D]
Washington Redskins est. 1937 London Fletcher [LB] [D]
Minnesota Vikings est. 1961 Chad Greenway [LB] [D]
New Orleans Saints est. 1967 Jonathan Vilma [LB] [D]
Washington Redskins est. 1937 Brian Orakpo [LB] [D]
San Diego Chargers est. 1970 Shaun Phillips [LB] [D]
Miami Dolphins est. 1970 Cameron Wake [LB] [F]
Oakland Raiders est. 1995 Kamerion Wimbley [LB] [F]
Pittsburgh Steelers est. 1940 LaMarr Woodley [LB] [F]
New York Jets est. 1970 David Harris [LB] [F]
Pittsburgh Steelers est. 1940 James Farrior [LB] [F]
Buffalo Bills est. 1970 Paul Posluszny [LB] [F]
Miami Dolphins est. 1970 Koa Misi [LB] [F]
New York Jets est. 1970 Calvin Pace [LB] [F]