Table of Contents
Introduction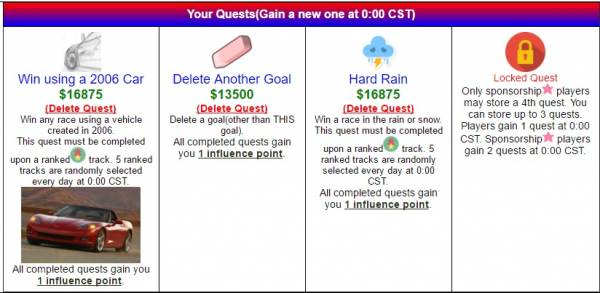 Daily quests were added to Andatura 4 on 5/12/2017 in anticipation of Red Friday of 2017.
Daily quests are an emulated system already in place at Trophy Fishing Online 2 that gives personalized goals while playing the game that are scaled to both new and experienced players.
Goal Types
There are currently 12 quest types that exist.
Win using a car made in the year XXXX
Win a Race with [Manufacturer]
Time of the Year - Win during a special event with ANY car.
Open a Car Prize Cache - Can be completed by opening a car prize cache(can also be completed using the 30 influence points purchase)
Delete Another Goal (Eraser)
Hard Rain - Win a race in the RAIN or SNOW.
Win a race in (Country)
Win using a car made in (Country)
Win using a (Drivetrain) Drivetrain Car
Win using a (Body Type) type Car
Win using a Tech xx Car
Win using a car from Region(North America/Europe/Asia-Australia)
More Information
Quests for the most part can only be completed on the "Goal Ranked Tracks". These tracks change every day at 0:00 CST and also give +25% winnings for all completed races.